by Andrea Mandel-Campbell
Nothing says Canadian summer like dipping your canoe paddle into a cool, glassy lake, plunging into a refreshing lagoon after a languorous picnic on a warm sheet of granite, or sitting around a crackling campfire under a big starry sky.
But as uniquely rejuvenating as canoeing the backcountry can be, being prepared and knowing what kind of experience you want, can make all the difference between tapping into a little piece of heaven and a tedious grind. There's a lot to consider, from the gear, and the food, to the route and the location. 'But a good first question, is 'what kind of trip you are looking for?' Does part of the excitement include being your own do-it-yourself voyageur? Or are you looking for remote wilderness and active adventure without having to spend weeks methodically staging the trip and poring over navigational maps?
Once you've settled on a DIY or a guided, outfitted trip, the next decision is location. The closer to urban centres, the more crowds, and the harder it is to secure not just a good campsite, but any campsite. By the same token, while there are many beautiful spots, there are some that are true standouts when it comes to the rocky majesty of the Great Canadian Shield.   I've paddled and canoe camped across Ontario, and for my paddling two cents, the Temagami Wilderness region is the hands down winner. A vast, rugged area of quartzite cliffs, crystalline lagoons and the largest remaining stands of old growth pine forest, it is big, bold, breathtaking wilderness, with great fishing to boot, and no crowds.
Remote, yet accessible, at about a five-hour drive from Toronto and Ottawa, there are enough campsites to go around, and no reservations required. And these are spectacular campsite; with soothing waterfalls or smooth rock outcroppings ideal for swimming, sunbathing and pitching a tent.   In terms of timing, the last week of July and throughout August the armies of biting bugs are essentially gone, and the days are beautifully warm. September through to Thanksgiving is also a gorgeous, bug-free time if you want to experience the fall colours.
Still, while August days average between 20-27C, nights are cool and it's important to be prepared on the off chance it rains. Bring layers of quick dry synthetic and wool clothes (absolutely no cotton!), long pants, a warm fleece and tuque for evenings, and a lightweight rain jacket. You'll also need two pairs of shoes; a dry pair for camp and a pair that will get wet and protect your feet while portaging heavy gear through rough terrain.
Next up is the ancillary gear that can transform a trip from 'roughing it' to 'rustic comfort'. On the top of my list is a good, self-inflating sleeping pad. This, along with a good headlamp for those late night excursions to the 'treasure box,' and a set of ear plugs to block out the snorers on your trip, will set you up for a peaceful night's sleep.  Then there are the small life savers; a handy clear plastic dry sack, or map sack, in the canoe for holding your phone, snacks, hat, sunscreen, bug juice (just in case), compact binoculars and map (if you are navigating yourself) that will save you the headache of having to constantly rummage around for things.I've also found bike gloves are a great way to protect your hands if you are prone to blisters, and a glasses strap is a must-have to safeguard eyewear from falling in the drink. For an added treat, there are great lightweight hammocks that are perfect for stringing up and enjoying a blissful snooze after a hardy day of paddling.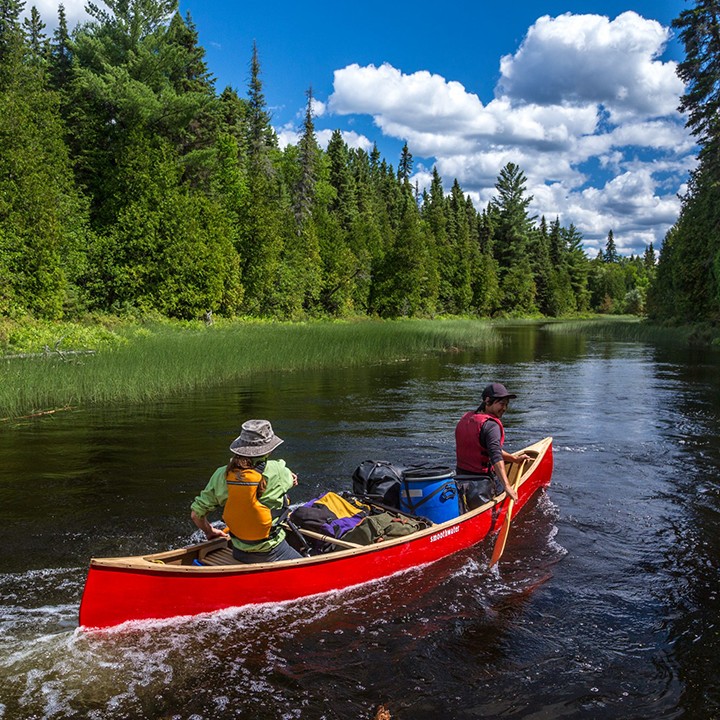 Lastly, two of the most common questions people have are: 'should I bring my dog?' and 'what about bears?' A former Park Superintendent for the Temagami region once told me that it was highly unlikely to come across a black bear while on trip, and indeed, I never have. Nevertheless, take every precaution; storing food in a bear barrel and either hanging it from a tree away from camp, or in a canoe securely tethered to shore.
As for the dog, having brought both my Labrador and my Rottweiler on trip, there are a number of things to consider: Can they swim? Will they stay in the canoe? Where will they sleep? Do you want a wet smelly dog in your tent with you? Will he bark all night at strange wilderness sounds? What if he takes off or gets lost? And of course, will your fellow trippers enjoy your dog as much as you do?   Dogs can be wonderful companions on a canoe trip, you just need to know what to expect, and wherever possible look to optimize the experience. That goes for every part of your trip. Heading out to this spectacular part of the world is the ultimate privilege, so make it count.
Andrea Mandel-Campbell is the founder of karibu adventures, which offers active, small group tours to unique wild places.