Welcome to my annual Canadian Bucket List Gift Guide, in which I recommend an eclectic range of products that have made a positive impact on my travels, my mind,  my meals and my life.  Some of them are very simple, most of them are inexpensive, and some of them could even save your life.
In no particular order, let's light it up:
The 5 Second Fire Starter
You only have to battle once to start a campfire in the rain to appreciate a better mousetrap.  Here's a very simple, yet very effective fire starter.  Put wood over it, pull the string, and voila, you have a fire.  You don't need matches, you don't need kindling, you don't need your crazy brother in-law squirting lighter fluid.   Pull Start Fire is rainproof, windproof, safe to cook over, and burns for about 30 minutes. The wood should be well on its way by then, if not, building a fire is definitely not for you.
$20 for a 3 pack, available here  or in Canada at Canadian Tire.
Belt it Out
I enjoy telling airport security that my elastic, clip-belt contains no metal whatsoever, so just let me play my part in this charade and get on with it already! I also enjoy wearing a belt that fits perfectly every time (although is easily adjustable after losing weight in Asia or putting it on after a cruise).  And I've saved like, hours of my life with the quick clip as opposed to fumbling with the belt hole, loop and tuck manoeuvre.  The Arcade belt looks good in my jeans, hiking and ski pants, is super light, and can be thrown in the wash with the pants.
From $37.95 at https://arcadebelts.ca/
One Charger to Rule them All
There are many different types of chargers, and ports are increasingly hard to come by on the latest laptops (I still use a 2013 Macbook Pro because I'm terrified of losing things like SD Cards, USB ports, and a device that hasn't failed me yet.  Please touch wood on my behalf).  Along comes the EZ Quest, which is jammed with all the ports you need to charge your phone, tablet, earphones, camera, e-reader, massage gun and whatever else the modern traveller feels compelled to travel with.  It's got over-current, over-voltage, over-temperature, and short-circuit protection, and charges devices three times quicker than standard wall chargers.  It will also charge your laptop, although regrettably not my own, because I'm still using an old school Mac charger that is literally held together with duct tape.
Various prices depending on the charger configuration.
A Solid Pair of Winter Boots
Here comes the rain, snow and slush, and here is a fine Canadian-made boot to meet it. Kodiak has been making serious work and lifestyle boots since 1910.  The Magog Waterproof Boot is sturdy, stylish, warm and padded with a memory-foam in-sole, comfortable to wear all day.  It also doubles as my 'fancy' shoes for live presentations, because travel writers need to be uniquely equipped to go from keynote stage to muddy forest in a moment's notice.  When Americans hear Canadians saying 'aboot' all the time, this is what they're talking about.
​
From $190 in Fossil, Brown or Black.  Available Online

Hotel-Feeling Linen at Home
My bed has a 3-inch memory foam topper that should get its own item on this list, primarily because it single-handedly solved my lower back pain every morning.  Even with extra-large fitted sheets, my erratic sleeping habits (I sleep with the peace and stillness of an exploding volcano) constantly bunched the bedsheet, pulling them off the corners, forcing constant tugging and pulling to get that clean, smooth-sheet feel you find in a great hotel bed.  Then I discovered the BedBand, which is so simple and so brilliant someone had to think of it.  Easy to apply when you change your linen, the bands grip the corners snugly, holds the sheet in place.  Now every night is a great hotel bed night.
From $20 in various colours (not that anyone will ever see them). I use the BenBandXL which is 50% longer and perfect for a king-size Bed.
Bug Off
As much as I love life and want it to flourish, mosquitoes should just die die die.  At the very least, stay out of my home during summer, and stop eating my kid.   The same kid, I should add, who busted up our sliding screen door by walking and running into it repeatedly. Introducing another product that will have you saying:  "where have you been all my life?"   TheFitLife Fibreglass Magnetic Screen Door is a heavy duty mesh curtain with magnets that snap shut automatically.   Essentially, it's a screen door kids and pets can run through over and over again without it breaking, and without the bugs getting inside.  It is easy to put up with no tools needed (although do your measurements) and while it might need an occasional poke for the magnets to click, it's infinitely better than bug bites and kids slamming into doors on their way to the garden.
From $29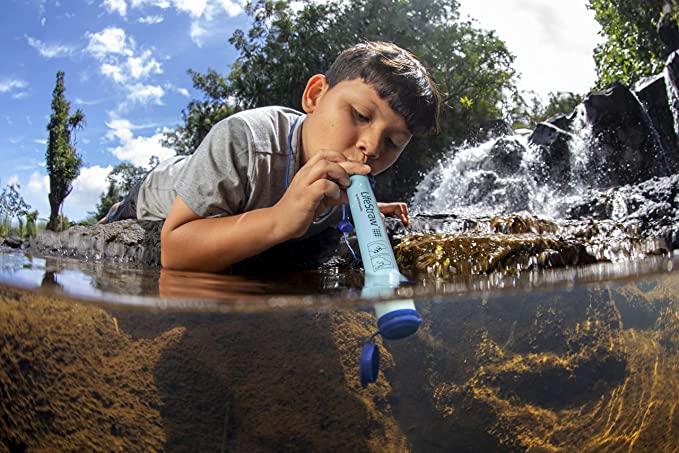 Drink from the River
 "Back in the old days son, we'd go on long hikes in big forests, and if we ran out of water, we'd fill up our bottles in the streams or rivers, but we'd have to use these disgusting iodine tablets to kill the bacteria and microbes that might make us sick."
"Wow Dad, you mean you couldn't just take a straw and drink directly from the river or lake?"
"No son, that only came about much later with the LifeStraw Personal Water Filter,  which could filter parasites, bacteria and micro-plastics from up to 4000 litres of contaminated water with no iodine, chlorine, or moving parts.  It was super light and easy to carry and the water tasted great too.  For hikers or anyone needing fresh drinking water, we called that 'A Gamechanger.'"
From $30
This Year's Book:  Factfulness – Ten Reasons We're Wrong About the World  – And Why Things Are Better Than You Think
We're exposed to a daily barrage of information filtered through media that thrives on bad news.  We rarely hear about all the amazing things happening in the world, like the fact that you're 95% more likely to survive a plane crash than unintentional poisoning,  or the spectacular advances in childhood health and education.  Authored by the legendary Swiss physician Hans Rosling, a regular TED speaker and founder of big data cruncher Gapminder, Factfulness was actually published in 2018, shortly after Rosling died. Yet its message, readability and insights are as valid today as it was then, because the data doesn't lie.  Pretty much everything is getting better than it used to be, especially for the six billion people who are being raised out of poverty around the world.    This book is "an indispensable guide to thinking clearly about the world," says Bill Gates, and I totally agree.
Available on Amazon or at your local library.
For the Person Who Has Everything: The Ember Smart Mug
You make yourself the perfect cup of coffee and you're ready to start your day.  Then you get a flurry of emails, and by the time you take your first sip, your perfect cup is bitter and cold.  How about a mug that keeps your drink at the perfect temperature, as programmed by an app on your phone?  The mug keeps your drink toasty for up to 80 minutes in the cup or all day in the special charger coaster.  The mug is so smart it turns itself off if you forget about it to save battery life, and it has an LED light to let you know when your beverage is ready to go.  Always hand wash, and I suggest going with the black to avoid coffee stains on this expensive, but rather clever coffee mug.
From $179
The Stealth Reading Lamp
Believe me when I say I tried a half-dozen reading lamps before finding the one that worked. I need to read before I go to sleep.  It's my melatonin. My wife needs darkness, and she's not into eye-masks. I toyed with various lamps clipped on and off the book, but it's not the light or brightness that bothers her, it's the colour of the light itself.   This small, flexible, USB-charged light clip has three brightness settings and a handy 90-degree swivel, while a compact frame and zero cables make it a perfect travel companion. Still, it's the orange Sleep Aid Light option that is the real winner, washing a small light footprint in a warm, non-obtrusive glow that helps me read as long as I want, and my wife to finally get a good night's sleep.  At least, until I start snoring.
From $14
This Year's Condiment: Trader Joe's Crunchy Chili Onion
I'm doing a Trader Joe's run across the border because for some inexplicable reason, we don't have Trader Joe's in Canada and this is simply devastating for those of us into top quality condiments.  I'm buying one of everything:  their excellent Peri-Peri Sauce, the Incredisauce, the Magnifisauce, the creamy Jalapeno Sauce, the Truffle Hot Sauce.  Then I see a fellow Canadian condiment load up her cart with two dozen 6-ounce jars of Crunchy Chili Onion. All natural ingredients: olive oil, dried onion, dried garlic, salt, paprika, crushed chili and red pepper.   "I take it that one's a winner?" I ask.
"Oh, you'll see, " she replies.
I buy three of the small jars, and now I regret not filling up my cart too.  Well played Trader Joes.  Well played…yet again.
Currently trading at $4.29
Available at Trader Joes.