A great road trip needs great attractions, and Vancouver Island is jammed with them.   The Great Canadian Bucket List already features snorkelling with salmon, spending the night in a 70's themed hotel, surfing the endless beaches of Tofino, the lovely Butchart Gardens, and diving sunken battleships off the coast of Nanaimo.  With my travels largely limited to my home province of BC, and with two young kids in two, I cast my bucket list net to see what else I could catch on the island.  The result spans 80 million years, offers exceptional views, takes us deep underground, and sprinkles in more than a few thrills.
Malahat Skywalk
Taking a BC Ferry to Nanaimo (on a clear sunny day, surely a bucket list activity unto itself), we turned left on the inland highway towards Victoria.  When I ticked off The Great Australian Bucket List, I discovered that they really enjoy their skywalks and bridge climbs Down Under, but they certainly don't have a monopoly on them.  Canada has its CN Tower Edgewalk, Glacier Skywalk in the Rockies and Capilano Suspension Bridge, and there's a new member to the club:  introducing the 10-storey-high Malahat Skywalk – a spiralling wooden tower that rises 250 metres above the spectacular Saanich Inlet.  Entering through the gift shop, we walked along a 600-metre raised wooden boardwalk, stopping to admire fantastic natural art, peeling arbutus trees, and creatures cleverly hidden in the bush below to engage the kids.  When you reach the tower, its scale and execution is instantly impressive.  This is just not something you see every day.  Inside, a 20-metre-long spiralling metal slide immediately captured my daughter's attention, so she picked up a slide rug to join the queue halfway up.  While she waited, I continued the ascent with my 5-year-old, listening to the whoops of sliders inside the tube.  Interpretative boards taught us about the region's fauna, flora and Indigenous history, while the view just never quit.  At the top, we found our own thrill crossing the Adventure Net with the world below our feet.  We returned to the bottom just in time for my daughter to pop out the slide with a big goofy smile on her face, and of course we had to show her the views and Adventure Net.   Up we go again.  We took our time, got a cookie at the concession, and three hours later were back on the road, this time heading north.  I don't know who comes up with these wild ideas for Skywalks, but if they're executed half as well as the Malahat Skywalk, it will always be a welcome addition to anyone's bucket list.
Digging for Dinos
My son Galileo is at the tail-end of an intense dinosaur phase. This is a 5-year old who knows that T-Rex has two fingers and Allosaurus has three; that Oviraptor is the "egg thief" and you're  pronouncing pachycephalosaurs wrong. He has a two dozen plastic toy dinosaurs, some as large as small dogs, and listened to Storybots Dinosaur songs on repeat for months.  Since I can't just drop him into the Natural History Museum in London or New York, I looked for a hands-on local experience, bringing us to the Fossil Tour experience at the Courtenay and District Museum and Palaeontology Centre.   Pat Trask's twin brother discovered the region's first Elasmosaurus in the 1980s, and Pat has followed up with plenty more significant finds that have been painstakingly removed from the fossil beds in the surrounding area.  Galileo reminds me that the Elasmosaurus and Mosasaur fossils on display in the museum are technically not dinosaurs but rather marine reptiles, but they are 80 million years old and fierce.  Who would win in a fight with a T-Rex?   Depends if it's on water or land.   Inside the small but enjoyable museum, Gali is beaming next to the giant cast Iguanodon head, the dino models, fossils and displays. Curator Pat tells us about the fossil bed that runs hundreds of kilometres beneath our feet, shows us fossils of vampire squid, mosasaurs and ammonite, and tells us great stories about natural history and his experience digging up fossils.  Pat's fantastic with the kids, patiently answering their questions, listening to their squirrel-like digressions, and is a master at keeping their attention.  He's an amateur dinosaur nut, not a qualified palaeontologist, but I'd bet he knows more about the little-known dinosaurs of Vancouver Island better than anyone else.   He hands us a map, invites us to hop in our car and continue the Fossil Tour at a little stop off the inland highway.  It's a short hike down to a stream bed, where he invites the kids to pick up a hammer, chisel, safety glasses, and start bashing away.   You never know what you'll discover!  Kids smashing rocks with hammers in a beautiful creek with the hope of discovering fossils – what's not to enjoy?   An hour later we had a few ancient ammonites and clam shells, which we could keep as souvenirs (any dino fossils would be donated to the museum).  More importantly, we had another fun experience in the bag, and even more enthusiasm for the planet's ancient past.   I have noticed Gali is trending towards Transformers these days, so next time I'll just tell him we're on the hunt for the Allspark.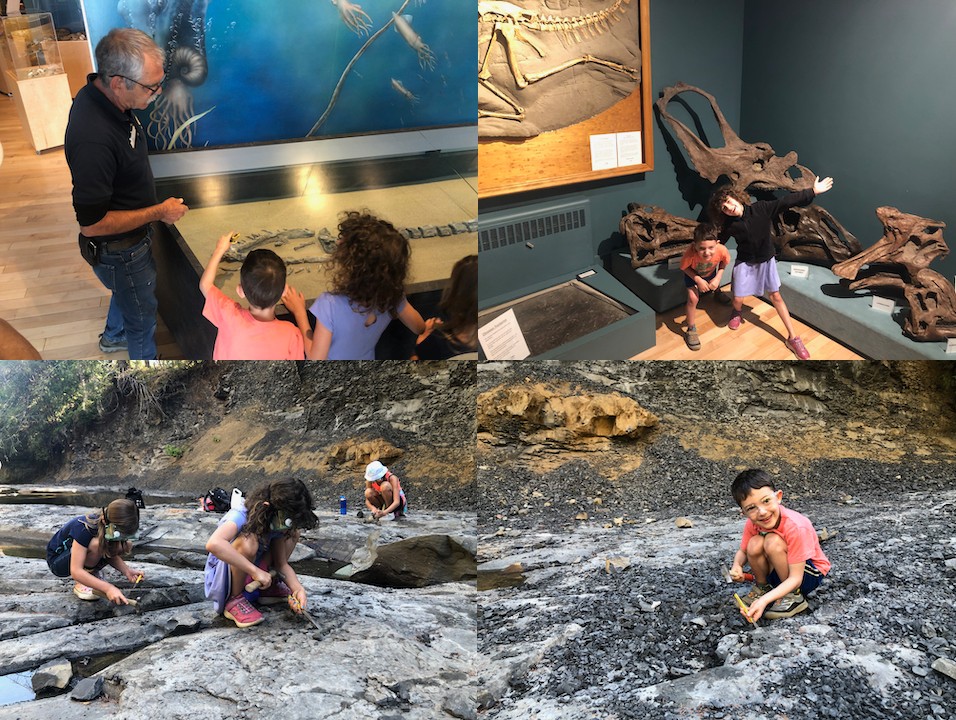 Caving in Horne Lake
We spent our nights staying with good friends in Courtenay, swimming and floating with locals along the gorgeous Puntledge River.  By now we'd had fun in the sky and on the ground, and it was time to go deep.  Less than an hour's drive away from Courtenay is Horne Lake Provincial Park, a global climbing and spelunking destination.  I've had epic caving adventures in Belize, Budapest, New Zealand, the Cook Islands, Australia and South Africa, but this would be my first cave adventure in Canada.  Millions of years ago, Vancouver Island was located at the bottom of the ocean floor.  About four percent of the island is limestone karst – an ideal geology for the formation of a subterranean network.  Today, the island has over one thousand recorded caves, more than all the caves discovered in Canada's other provinces combined.  Some caves have over 10km of mapped passages, the longest and deepest in the country, which is why this "Island of Caves" is a global spelunking destination.  The best introduction to this underground world is the Horne Lake Caves, located in the provincial park located between Nanaimo and Courtenay.  It offers various packages that range in difficulty, although all are far removed from the tour-bus ready spotlight show caves you might have experienced in other destinations.  Horne Lake requires hard-hats, headlamps, overalls, scrambling, ducking, sliding and squeezing. In other words, fun for kids and adults alike. Since age limits apply,  I'd have to leave the Extreme Cave Rappel adventure (rappel down a 7-storey underwater waterfall!) for another day, but the family-friendly Riverbend Cave Explorer tour was perfect.  By the time we reached the entrance to the cave, both kids had bonded with same-age kids on the tour, and hardly noticed the 20-minute interpretive forest walk.  As we descended into the dark world below, our guide Alicia showed island patience with the delighted kids, giggling at the peanut-butter marble formations and soda-straws.  The last time I took the kids into a cave was in Naracoorte, South Australia on a 48C day (caves are great places to cool off).  They were a little young and  were scared of the dark. Today I was just happy they were happy, even braving the mandatory "let's turn off the headlamps to experience pure darkness" caving experience.   Older kids and adults might want to book a little more challenging tour, but if you've never tried spelunking before, you'll definitely want to add Horne Lake Caves to the bucket list.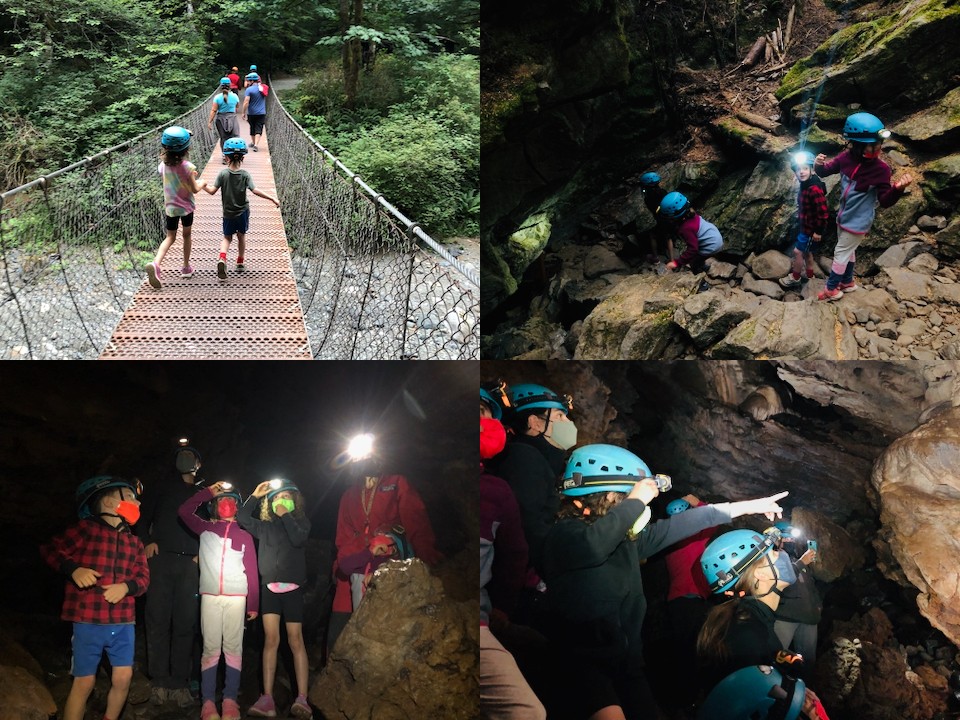 Click here for more roadside attractions on a Vancouver Island road trip.