Previously published on The Loop
Animals of the north capture our imagination just as surely as animals of the southern hemisphere. We may not have lions and elephants, but we have bison and bears, both of which are far more accessible, part of our lives far more than their African counterparts. I've enjoyed some spectacular animal encounters across the country. Featuring many experiences on The Great Canadian Bucket List, here's some of the best.
Beluga Whales
The most popular and accessible place to view the White Ghosts of the North, outside of the Vancouver Aquarium, is each summer in Churchill, Manitoba. Each year, up to three thousand belugas gather at the Churchill River estuary to feed and give birth to calves. Visitors get relief from the fierce bugs in town as they head out into the river and Hudson Bay to boat, kayak and perhaps even snorkel amongst the whales. For the more adventurous, check out Arctic Watch, a fantastic eco-lodge on Somerset Island. Up to two thousand Belugas gather at the nearby inlet to the Cunningham River each summer, under the bright midnight sun.
Salmon
The life cycle of Pacific salmon represent one of the world's great migrations. These tenacious fish do more than feed folks on the West Coast: they are vital to the survival of the temperate rainforest, enriching the soils with nitrogen, and feeding and sustaining West Coast wildlife. To get up close and personal, consider snorkelling with thousands of salmon with Destiny River Adventures on Vancouver Island's Campbell River. Donning a wet suit and mask, guides take you upriver where you can float with the current amongst large schools of coho, pink and massive king salmon.
Bison
Three places immediately come to mind when it comes to an encounter with the largest land mammal in North America. Once threatened with extinction by centuries of unchecked hunting, bison herds are gradually increasing. Just outside of Edmonton, visit Elk Island National Park, which contains about 700 wood and plain bison. These bison were brought down from Wood Buffalo National Park, the largest national park in Canada, split between Alberta and the Northwest Territories. Wood Buffalo has the world's largest free-roaming herd of bison, numbering around 5000. Alternatively, consider horse riding with Sturgeon River Adventures amongst the 400 bison that roam the west of Saskatchewan's Prince Albert National Park. These are the only Plains bison that still roam in their historical range.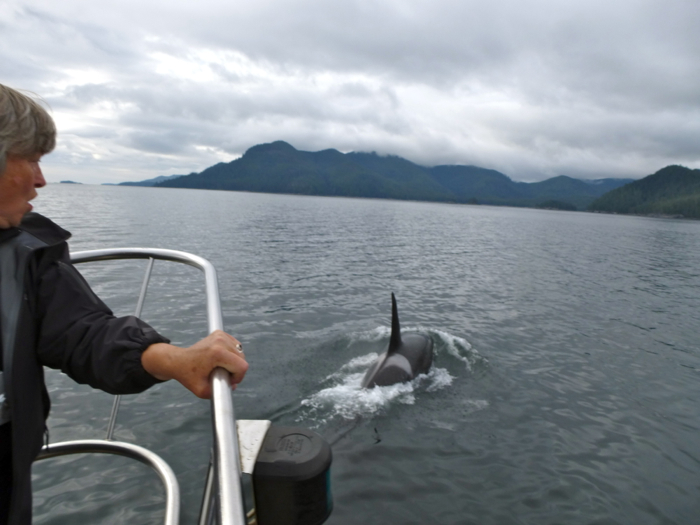 Whales
Orcas, humpbacks, bowheads, narwhals – our seawaters are abundant with the world's largest and most intriguing ocean mammals. There are plenty of whale watching operators on the east coast (in coastal Newfoundland or in the Bay of Fundy) and on the west coast (particularly from Victoria or Vancouver Island's Tofino). My best whale experience was in the protected waters of the Gwaii Haanas Marine Conservation Area Reserve, sailing aboard Bluewater Adventure's comfortable 70ft Island Roamer. A large pod of rare offshore orcas surrounded our boat, with a killer whale breaching just feet from the yacht. Throughout the weeklong adventure, it was a common site to see humpbacks breaching in the distance.
The Spirit Bear
Tracking the mythical Spirit Bear that roams the Great Bear Rainforest in Northern BC is a once in a lifetime experience. Also known as Kermode Bears, they are actually black bears with a recessive gene. The best time to view them is in September, and you can treat yourself by staying at the luxury lodge like Nimmo Bay or King Pacific. On Gribbell Island, local guide Marven Robinson, a man who knows these bears better than anyone, leads you to wooden platforms on a beautiful creek, where you can expect a magical encounter with a bear you can find nowhere else on Earth.
Moose and Elk
Banff and Jasper National Parks are amongst the oldest in the country, and this vast protected wilderness has allowed wildlife to flourish. It is not uncommon to see a large elk on the side of the road as you exit the towns, or moose grazing in the forest. In Newfoundland, drivers see more moose than they'd like. Drawn to the roads at sunset and sunrise, a collision can claim the life of both human and animal. For drivers in northern Canada, there's an extra incentive to keep a close lookout for wandering moose.
Caribou
Each September and October, the tundra of remote Northern Labrador is witness to one of the world's great migrations: thousands of barrenground caribou herds returning from the south. The Great Canadian Adventure Company offers a comfortable, environmentally friendly viewing and photography lodge, where the caribou might literally wander into camp. The caribou, in turn, are followed by other animals including wolves, black bear and Arctic fox. To see it all, you'll have to fly from Montreal to Goose Bay, and then onwards to the outpost community of Nain.
Polar Bears
We return to Churchill, this time for a short 6-week period in October and November, and the chance to witness the most southerly population of polar bears in the wild. Customized tundra buggies, with heat furnaces, toilets and extra high viewing decks, roam the rough tundra as predominately male polar bears wait for the Hudson Bay to freeze over. The bears, numbering around 950, will hop on their hind legs to literally fog up your camera lens with their breath. From the viewing deck of the Frontier North's Tundra Buggy Lodge, I watched a pair of bears sparring like boxers, preparing themselves for the long winter ahead. People come from all over the world for this unique experience, and few leave disappointed.
Wolves
Nocturnal and shy, wolves are rare to see in the wild, although lucky encounters do take place at national parks around the country. There is however a more quirky encounter with more reliable results. Each Thursday in August up to Labour Day, hundreds of cars head to northern Ontario's Algonquin National Park. As the sun sets and the darkness settles, you'll see a line of headlights snaking along the main road. At a designated time, park rangers will lead the visitors with a loud concerted wolf howl. After a few seconds, the large packs of wolves that roam the park will respond in kind.
Grizzly's
The largest carnivore in North America demands a certain amount of fear and respect. While attacks are rare, brown bears (also known as Grizzlies) are territorial and can be aggressive. The vast majority however will leave you alone if unthreatened. The best place to view Grizzlies in the wild is on bear-watching expeditions in British Columbia. Coastal grizzlies stuff themselves with the fruits of the annual salmon run, and watching them snatch fish out the river is a true highlight. Grizzly tours, like those at Great Bear Tours, take place on foot or by boat, guided by trained wildlife interpreters.