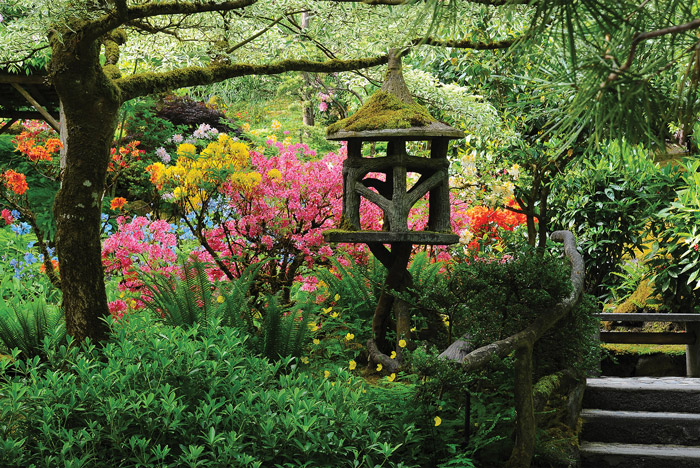 1. Butchart Gardens, BC
Receiving around one million visitors each year, Vancouver Island's iconic Butchart Gardens is a National Historic Site, a stunning depiction of flora as art, and a worthy item on The Great Canadian Bucket List. Set on 55 acres if privately owned land near Victoria, the gardens date back to 1904. A full time staff of 50 gardeners keep the grounds immaculate, and well deserving of their world-renowned reputation. Open year round, the flowers and bulbs change with the seasons, blossoming by the thousands in spring, radiating red and gold in the fall. Highlights include the Japanese Garden, the Italian Garden, Rose Carousal and Saturday evening fireworks.
2. Canadian Tulip Festival, ON
Ottawa hosts the world's largest tulip festival, attracting more than half a million visitors each year to walk among one million blooming tulips. The festival dates back to 1945 when the Dutch royal family donated 100,000 tulip bulbs in gratitude of their safe haven in Canada during World War II. Today, there are over 50 varieties of tulips on display each May, welcoming the spring in celebration of the city's official flower.
3. Annapolis Apple Blossom Festival, NS
Inaugurated in 1933, Nova Scotia's Apple Blossom Festival is traditionally held late May to early June, celebrating the agricultural culture and heritage of the province's fertile Annapolis Valley. Organizers choose the date based on their best bet when the region's blossoms are in full bloom. Supported by 16 communities, over 150,000 people enjoy family-friendly events such as street parades, and afternoon teas with the lovely Apple Blossom princesses.
4. Vancouver Cherry Blossom Festival, BC
Each April, Vancouver's 40,000 ornamental cherry trees explode with popcorn-like blossoms. A gift from Japan in the 1930's, the annual festival is inspired by the Sakura festivals of Japan, and includes a Haiku Invitational, the Japan Fair, bike gatherings, tree walks and photo competitions. A springtime tradition in the city, a handy online map helps locals and visitors enjoy the 1000+ displays of cherry trees in and around the city.
5. Canada Blooms, ON
Flora lovers and green thumbs look forward to Canada Blooms, the largest flower and garden festival in the country. Together with the National Home Show, it's also the largest home and garden event in North America. Hundreds of thousands of people visit Toronto's Direct Energy Centre to view acres of creative feature gardens, listen to lectures from stars in the world of horticulture, take workshops, or see competitors in the Toronto Flower Show, the country's largest floral and horticulture competition.
6. Waterton Wild Flower Festival, AB
Looking for colourful wildflowers, blooming in the Rocky Mountains? More than 50% of Alberta's wildflowers grow in Waterton Lakes National Park, which hosts an annual Wild Flower Festival in June. The 9-day event takes visitors on guided flower walks to learn about dozens of rare flowers that can only be found in the park, including rare crocus, spotted coralroot, glacier lillies and balsam root and orchids. Some 80 educational events are offered, including photography courses, wild flower cruises, horseback tours, and watercolour classes.
7. Le Temps des Lilas, QC
It's a celebration of lilacs each June in the village of Cap-à l'Aigle. Two hours drive north of Quebec City, overlooking the St Lawrence River, the event features 200 varieties of flowering lilacs, arranged in four different themed gardens. The village itself comes to life with annual and perennial flowerbeds sparking up the colour of its main street, St Raphael, and in parks and lookouts throughout the area.
8. Bruce Peninsula Orchid Festival, ON
Just outside of Tobermory on the Northern Bruce Peninsula, where the Georgian Bay meets Lake Huron, some 44 species of orchid are celebrated with a popular annual festival. Located in the heart of the Niagara Escarpment World Biosphere Reserve, the abundance of orchids and rare wildflowers on offer are among the most diverse on the continent, growing amidst some of the oldest trees on east of the continent. Photographers and naturalists leads workshops and walking tours over the weekend-long event.
9. Royal Botanical Gardens, Burlington, ON
The largest botanical gardens in Canada, located less than hour's drive outside Toronto, are always blooming with life. The gardens celebrate tulips and 700 species of lilacs in May, while two acres of fragrant roses explode with colour in June and July. 27km of nature trails lead visitors through the gardens, divided into the Laking and Rock Gardens, Hendrie Park, the Arboretum, RBG Centre, Interpretive Centre and Natural Lands. More than 1100 species of plants grow in the 2450 acre National Historic Site, which offers plenty of choices for quiet picnics and relaxation within its lovely landscape.
10. World Lily Festival, MB
Each July, the town of Neepawa hosts its annual World Lily Festival, featuring three days of lilies, parades, music,, lily competitions and community events. Voted "The Most Beautiful Town in Manitoba," the town produces over 2000 types of lilies, some of which are shipped all over the world, and are renowned for their beauty. Its population swells nearly 4 times during its 3-day festival, with gardens and parks overflowing with colourful hybrid lilies.