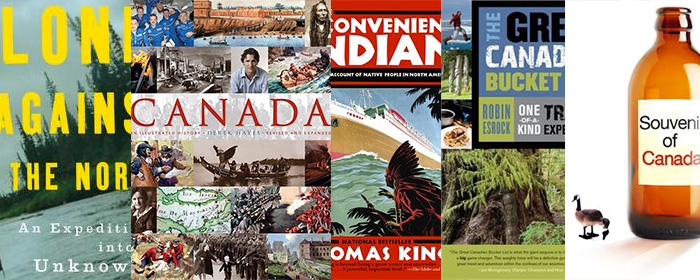 Visiting Canada and looking for something to read? Or do you live here and hoping to learn more about the country, its people, landscapes, history, culture and diverse attractions? Bucket List correspondent John Thomson gives us an unbiased review of some of the best books about Canada. And yes, we're pretty thrilled we made the cut!
Canada: An Illustrated History by Derek Hayes

Jam-packed with information and lavishly illustrated with period maps, drawings and photographs,Canada is a great introduction to the true north strong and free. Hayes has compiled 12 chapters in chronological order starting with Canada's indigenous peoples before the Europeans arrived, early French and English settlements, opening up the West, Confederation and as we get closer to the modern age, the politics of nation building. Each chapter is bisected with sub-headings making for an easy read. No dry tome this, we're a feisty bunch. The book is full of battles from those pesky Fenians to Canada's contribution in men and materiel in both World Wars. The book is peppered with curious little tidbits such as a water bath punishment for colonial miscreants "more humane than flogging" the newspaper of the day proudly proclaimed. It wasn't. We are a diverse, tolerant and caring nation, the book concludes, pointing to the week Atlantic Canada took in hundreds of air travellers stranded after 9/11.

Alone Against the North by Adam Shoalt

Armchair adventurers will love this first-person account of Adam Shoalt's 107 kilometer paddle along Ontario's Again River to Quebec's James Bay. Shoalt is a fearless adventurer, often called Canada`s Indiana Jones, accustomed to hacking trails through the Amazon or snowshoeing north of Lake Huron. In 2008 he and his buddy Brent Kozuh set out by canoe to navigate this previously unexplored waterway. His buddy dropped out along the way but Shoalt forged ahead battling flies, mosquitoes and bears. He discovered five waterfalls the hard way, by going over one of them, nearly drowning and damaging his boat. Ouch. No problem. He kicked the hull back into shape and covered the holes with duct tape. "People are getting soft these days," he laments. Yes indeed if Shoalt is the guy setting the pace. Alone paints a picture the Hudson Bay Lowlands, its topography, its flora and fauna but most of all, Alone is a rip-roaring yarn as well.

Souvenir of Canada by Douglas Coupland

Coupland is a celebrated writer, artist and commentator on modern life and his take on famous Canadian icons doesn't disappoint. His book is a series of short one-page essays arranged alphabetically from Baffin Island to Zed (that's zed not zee), dealing with a range of items including stubby beer bottles, ookpik (a toy owl made out of sealskin) and codeine pills. Volume Two picks up where Volume One left off with commentary on such Canadianisms as Terry Fox, tree planters and guns and ammo. Guns and ammo? Coupland grew up around guns. And the T. Eaton catalogue for those that remember the late, great department store. He also addresses weightier topics such as the FLQ crisis of 1970, marijuana grow ops and our relationship with the United States. The book is illustrated with over one hundred drawings and photographs, many from Coupland himself. Wry and sardonic, Souvenir is a loving portrait of the country and its quirks. "Canadian winters are long," he says. Life is hard and so is ice." Amen.

An Inconvenient Indian by Thomas King

Noted historian Thomas King has a bone to pick with contemporary society. "Whites want land," he says in his book An Inconvenient Indian, and it is this concept of land as a commodity that has fueled decades of discrimination against the indigenous peoples of Canada and the United States. Witness Canada's residential school debacle and Ontario's "scooping up" aboriginal children and placing them with white foster parents in the 1960's, all in the name of resettlement. He traces our relationship with aboriginal peoples to Hollywood stereotypes like the blood thirsty savage and the noble red man. But those pop culture clichés are bogus archetypes, he says, and the "inconvenience" of having to deal with real native issues, land claims and sovereignty, is here to stay. Not all is doom and gloom however. King offers solutions such as sovereignty and self-government. King is part Cherokee himself and his book, conversational in tone, is a personal look at aboriginal issues on both sides of the border.

The Great Lakes by Pierre Berton

The five inland waterways that make up the Great Lakes provide approximately 35 million Canadians and Americans with both their livelihood and lifestyle, says historian Pierre Berton. Collectively, they represent the largest volume of fresh water in the world and their shores team with precious minerals, gold, silver, copper and iron ore. Berton documents the cast of players – early explorers, missionaries and the War of 1812 with British and American soldiers pummeling each other for control of the waterway. The industrialists followed, exploiting the riches and creating the cities, Sault Ste. Marie, Thunder Bay, Detroit and Chicago. Today, the Great Lakes are ailing. Industrial toxins and agricultural runoff have polluted the waters. Invasive species such as zebra mussels and sea lampreys are killing fish. Berton ends with a plea for conservation. The Lakes are historically, commercially and geographically important to central Canada and the northern United States. Is it time, dare I say it, to make the Great Lakes great again?

The Great Canadian Bucket List by Robin Esrock

Bucket List is Robin Esrock's breezy take on those weird and wonderful things to see and do in this vast country. There are adventure stories, people stories and food stories broken down by province or territory. "All these activities are do-able," says Esrock and he should know; he's done everything in the book himself from spending a night in an Ottawa jail (it's really a hostel) to floating in Canada's own Dead Sea, Little Lake Manitou, 116 kilometres southeast of Saskatoon. And he's challenged himself. Kudos to the author for hiking up the Grouse Grind, 853 metres up the side of Vancouver's Grouse Mountain and for munching down on prairie oysters aka bull testicles. Yum, yum. And then there's helicoptering into the Rockies to take a yoga lesson atop Wedding Knoll. See? Something for everyone. Doing these things himself gives this hefty book (now in its second edition) credibility, and hopefully inspires the reader to experience Canada in all its glory before, you know, the Reaper gets you.