Robin Esrock visits the Kootenays to tick three more mountains off The Great Canadian Bucket List
Nobody pushing fifty should be on a snowboard.  I came to this realization last spring cat-boarding down a dreamy bowel with Skeena Cat outside of Smithers, BC.  Carving powder like a sous chef through butter, I found strapping my board on and off to be inefficient and occasionally painful. Lower backs and joints are not kind to those pushing fifty either.  Meanwhile, skiers in my group simply clipped in and slid off, navigating more terrain, and clearly taking advantage of the ski manufacturing revolution that have made skiing more fun than ever.  When my binding broke, so did my snowboarding spirit. I donated my board to the mountain, and resolved to ski from now on.
Last December, I got back on skis after taking my first ski lessons over two years ago at RED, Revelstoke and Sun Peaks.  RED and Revelstoke are the western-most ski resorts on British Columbia's epic Powder Highway, a collection of eight resorts famed for their terrain, communities and quality of snow.  Clipping into my comfortable boots and heading up my first chair, it wasn't exactly like riding a bicycle, but I didn't start from zero either. Exiting the chair and sliding to the top of the slope without having to fall on my butt to strap felt wonderful.  My first ever blue run on skis was in the darkness of New Year's Eve, holding a burning flare, zig-zagging in a bucket list torchlight parade led my Olympic legend Nancy Greene Raine.  If you're also a beginner, it is strongly suggested and compellingly advised that you do not follow my example.   This month, I got the opportunity to improve my skills and more importantly, tick off three more ski hills on the Powder Highway.
FERNIE ALPINE RESORT
Flying into Cranbrook, my first stop is the town of Fernie (population 6300).  With a storied history in coal mining – captured at the excellent Fernie Museum on Second Avenue –  Fernie is a vibrant community, completely surrounded by the Rockies, with a dynamic art, food and outdoor adventure scene.  Fernie Brewing Co is one of my favourite craft brewers in the country (their Hazy Pale Ales are particularly juicy), a tasting tour at Fernie Distillers was delicious (don't leave town without a bottle of Fernie Fog).  Restaurants in town like The Loaf and Nevados are outstanding, while Lunchbox and Big Bang Bagels get you fuelled up for the hill.  Fernie Alpine Resort is located a short drive out of town, with hourly shuttles running  during ski season. The resort itself is set up for condos and rentals, as well as the ski-in ski-out Lizard Creek Lodge opposite the Elk quad chair. With up to 37 feet of annual snowfall (about the size of a three-story building) Fernie has 142 ski trails, 30% of which are novice, 40% intermediate and 30% expert.  Crowds are thin, gear rentals is easy and efficient, and soon enough I was riding up Deer quad chair for my first run.  Nervous at first, but with the basic principles down, I knew it is just a matter of practice and time before I could stop thinking too much and get more comfortable on the slopes.  At the end of the day, I was relieved to toast a cold hazy pale ale with growing confidence, and without any major wipe-outs.  A fine dinner of elk rib-eye steak at Lizard Creek's Cirque restaurant , followed by a visit to the adjacent ice-bar, capped off a fine and fun day in the mountains.
KIMBERLEY ALPINE RESORT
The Powder Highway encompasses the towns of Fernie, Nelson, Rossland, Golden, Revelstoke, Invermere, and Kimberley. Each town and their local hill offer different terrain and attractions, and that's the promise of this 1000-km-plus circular route through British Columbia's Kootenay region. Seldom does a ski trip come with such a sense of discovery.  The Kootenays are too vast and it's too ambitious to visit all the resorts on one trip, but you can certainly take in a few, flying in and renting a vehicle from Cranbrook or West Kootenay Regional Airport.  Departing Fernie, it's an hour and a half drive to the town of Kimberley (population 8000), voted the Best Small Town in BC in a popular 2022 CBC poll.   I checked into a modern boutique hotel called The Larix, which felt wonderfully homely, complete with the co-owner cuddling her baby granddaughter on the leather sofa by the fireplace.  The Larix is just steps away from the Platzl, Kimberley's downtown pedestrian strip originally inspired by a Bavarian village.  The town is moving away from the Bavarian influence these days, but the Platzl still has the world's largest cuckoo clock, where you can drop in a coin and watch a mountain man do a fun little yodel.  Steps away is an eclectic bistro called Biscuit if you're looking for a great dining option, along with tales of hot sauce and fine cocktails at a long wooden bar.
Kimberley Alpine Resort is super family-friendly, with impressive runs that also attract professional and elite academy downhill ski teams. With one of the longest illuminated lift-runs on the continent, the resort has 80 named runs, 1800 acres of skiable terrain, 33 kilometres of cross-country trails, gorgeous views of the Purcell mountains, and passionate community support.  I've now had a half dozen ski instructors and no shortage of tips from better skiers. All have been supremely patient as I embrace the sport with the grace of skydiving ostrich.  Megan Field, the resort's marketing manager, observed my first run and decided I was ready to be thrown out the plane.  Cue my first confident blue, aided by effective advice to simply put weight on my downhill leg to turn.  Anyone will tell you that it's challenging to learn to snowboard, but easier to advance once you do.  It's also easier to learn to ski, but challenging to get better without instruction and plenty of mountain time to find your rhythm and confidence.  It all came together for me in Kimberley. Wherever skis take me in the future, I'll always have a soft spot in my heart for this lovely local hill.
PANORAMA
There's time for one more mountain, a scenic 90-minute drive up Highway 93 between the Rockies and the Purcells.   The Kootenays is a beautiful part of the world, and paradise if you like your mountains.  I arrive in Invermere (population 3900), a popular escape for Albertans who live on the other side of the mighty Rockies.  Invermere is also famous for its Whiteway, the world's longest skating track, groomed by the Toby Creek Nordic Ski Club onto Lake Windermere each winter.  Stopping off at one of the two access points, volunteers were setting up curling and hockey rinks, while the multi-use path disappeared across the frozen lake.  You can skate about 30-kilometres if your body is in physical condition to do so, or you can simply turn back at one of several loops along the way.   Skating the Entire Whiteway is an easy add to The Great Canadian Bucket List, and I would do it myself, except that I'm in no physical condition to do so, and more conveniently, I don't know how to skate!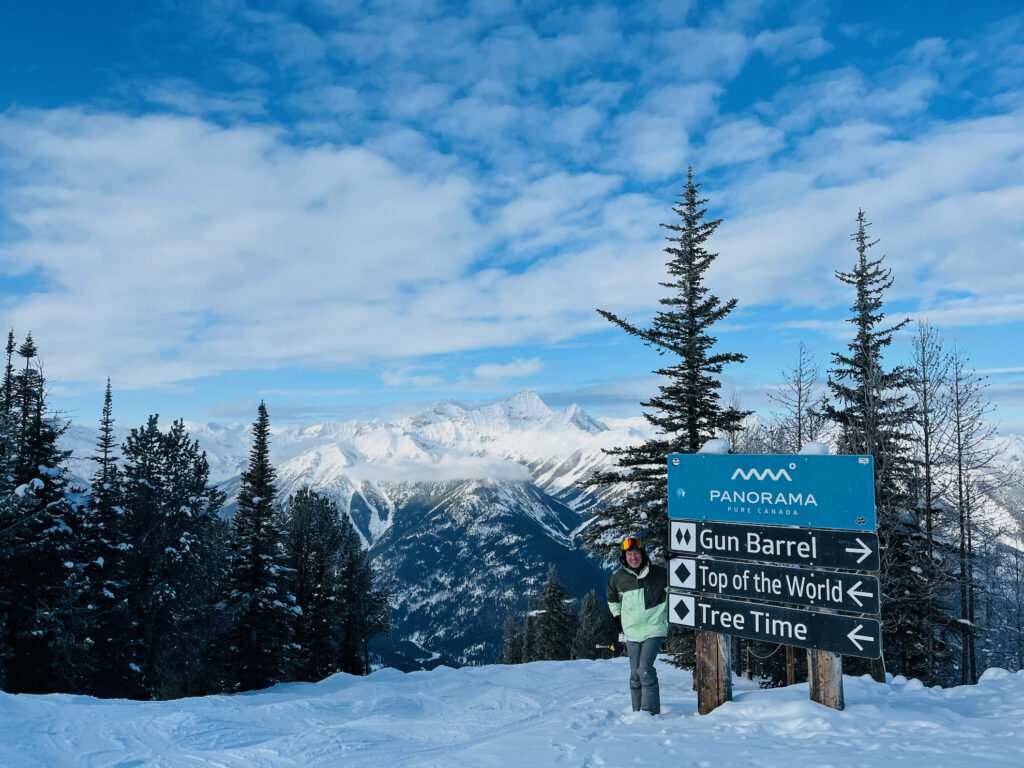 It's a 20-minute drive from Invermere to Panorama Mountain Resort, which has 135 named trails nicely split across beginner, intermediate, advanced and expert terrain. Panorama has 10 lifts, two alpine snowcat shuttles, and an on-site heli-ski operation with access to a staggering amount of terrain. Formerly owned and developed by Intrawest, the current owners made a commitment to invest 100% of profits back into the resort for ten years, and it shows.  The Approach is a newly refurbished hotel at the base of the upper village, overlooking the slopes and two base quad chairs. The restaurants and après options are great, and steps away from the village quads is a canteen for quick refuelling during the day.  All accommodation is booked and checked-in through central reservation which is located at the base of the hill, and there are plenty of condo options available. At nearly 8000 feet, it takes three chairs to reach the summit of Panorama.  Once there, the possibilities are endless, especially with the two Monster X snowcat shuttles opening up the possibilities of Taynton Bowl.   This was epic former heli-ski terrain, and it all funnels back to the village.  It costs $22 a shuttle, or $66 for a pack of 4…and it's a hell of a lot cheaper than heli or cat-skiing.  Panorama also has a lovely communal hot spring, and one of Canada's best snowmobile operations at the base of the hill.
If my skiing finally came together in Kimberley, Panorama is the first resort where I could fully enjoy the thrill of it.  The views on this mountain are staggering, especially from the summit, where you'll find the aptly named Top of the World.  The beginner and intermediate runs were groomed to perfection, and soon enough I braved and survived my first black diamond run.   Crowds are sparse on the Powder Highway. According a global ski report, Panorama is the world's top resort for most space per skier.  This means more time on skis and less time in queues.
The wine flowed at the Alto Kitchen and Bar on my final night for this leg of the Powder Highway.  I'd covered a lot of ground, and as with any successful ski trip, was already thinking of where to go next.  Whitewater, Kicking Horse and Fairmont Hot Springs Resorts will need another visit.   At the end of this personal Powder Highway is an elated and confident skier with a sizeable tick off his Great Canadian Bucket List.