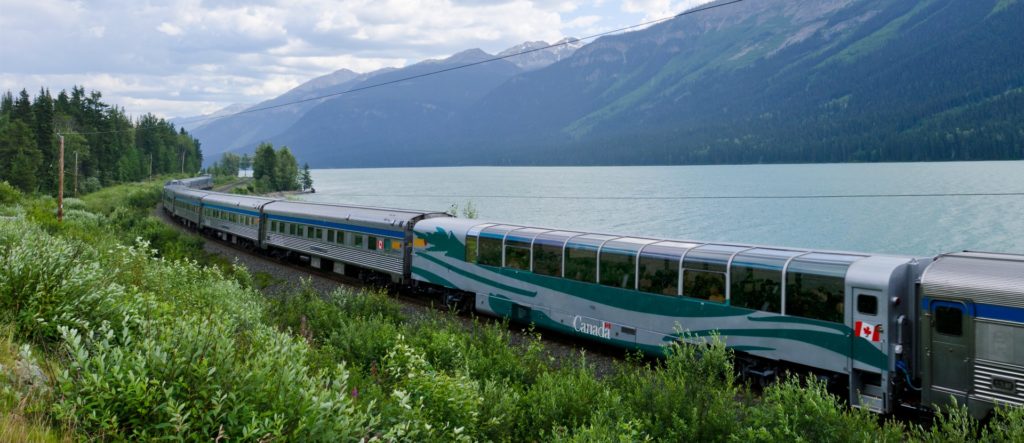 I've been fortunate to experience some of the world's great, and not-so-great train journeys. The Trans-Siberian, the Trans-Mongolian, the Tazara from Zambia to Dar es Salaam, Tanzania. Trains across Croatia, Poland and Hungary. Trains through Western Europe, and India. I find long train journeys to be a pleasant mode of transport – far less stressful than driving, far more comfortable than buses, much slower than aeroplanes, but with the benefit of actually seeing something other than the seat in front of you. VIA Rail's The Canadian is 4,466-kilometre journey that slices the country, east to west and vice-versa. The 4-night, 3-day passage is rightly regarded as one of the world's great train voyages, and if people from around the world are boarding, it certainly demands investigation for the Bucket List.
It's 8pm on a June Friday night at Pacific Central Station in Vancouver. My wife and I arrive in a typical West Coast downpour, the summer determined to hide no matter how much everyone seeks it. Like other passengers in the waiting room, we each have a carry-on piece of luggage, with larger items checked in, along with pets, bikes and equipment. We're shown to our Touring Class cabin, which features two bunks, a basin, storage, and toilet. The two classes of sleeping cars are named after English settlers or French explorers. Car 213 is called Bliss Manor, not for the state of mind it would later induce, but for a commissary in the Revolutionary War and New Brunswick settler named Daniel Bliss.
That week's configuration of The Canadian consisted of 21-cars, 2112ft long, weighing a total of 1540 tons. We had two engine machines; one to pull the train, and one to power the cars. Configurations might vary depending on demand, but expect panoramic view cars and double-story dome viewing cars, dining cars, activity cars, and a wonderfully retro Park Car at the back, complete with a bar and view of the tracks left behind. The showers and toilets are clean, the food outstanding, and activity co-ordinators hold beer and wine tastings, movies, games, and interpretation sessions. The 11-days I spent on a train in Russia could only dream of such facilities and services, confined as I was to a sleeper car with stale noodles, dirty washrooms, and rough attendants with the hospitality of aggravated vampire bats.
Despite many renovations over the years, VIA Rail's cars still carry the pastel colours, industrial carpets, stainless steel and boxiness of the 1950's glory days – before airfare was affordable and the Trans-Canada Highway was complete. The cross-country journey was initially offered by competing railway companies: Canadian Pacific Railway's The Canadian, and Canadian National Railway's Super Continental. As passenger numbers declined, CPR hoped to discontinue the service, forcing the federal government to take over with its VIA Rail Crown corporation. In 1990, the route moved from the CPR route through Ottawa and Montreal to the CN Route that travels through Edmonton and Saskatoon. While trainspotters will no doubt love all this information, my wife and I were simply looking forward to some quality time together, enjoying the soporific effect of the world passing us by, and the opportunity to see Canada's landscape transform before our eyes.
It takes a night or two to get used to sleeping on a train. The rocking, the sounds, the feeling of hurtling forward at 130 km/hr with your eyes closed. I wake up shortly before dawn to find the tracks running alongside semi-arid cliffs and a swollen Thompson River. Heavy rains have resulted in the river breaching its banks in some areas, and the water level seems disarmingly high. As dawn breaks, An American tourist, enthusiastically taking photos out the front of the dome car joins me. We high-five like kids after skirting a particularly steep cliff, and when exiting particularly long and dark tunnels. I return for a few hours of sleep, wake for an excellent breakfast (crab hollandaise bennies), and a day touring through the most dramatic part of the journey – the Coastal Range, Selkirks, and the Canadian Rockies. It's my third visit to the Rockies this year, but expression on the faces of my fellow passengers reminds me of the impact these mountains have on those from afar. The viewing cars come into their own. Throughout the journey, the Canadian will make 10 major stops for servicing and changing of crew and engineers. Additional stops take place in small towns like Clearwater BC, Unity, SK and Winnitoba, MB, if there are passengers or cargo to service. Stops range from fifteen minutes to stretch your legs on a dusty platform, to an hour or more to explore the town of Jasper or The Forks in Winnipeg.
With a good book, bottle of wine, comfortable bed, tons of writing to do and a lovely wife to spend time with, I never feel bored. The only responsibility we have is to show up for the three daily meals in the dining car. Time on a train is time in movement, literally barrelling through boreal forests, mountains and prairies. Just to prove its time is so malleable, The Canadian goes through four time zones. And yet everything runs like clockwork. The attendants are helpful and friendly, the meals consistently excellent and varied (rosemary lamb chops, pan-seared scallops, quinoa salad with goat cheese). Crossing Siberia, all I had to feast on was cheap instant noodles, cheaper vodka, and a never-changing landscape of farmland.
Out our window, we see the world in perpetual green motion blur, forest and fields punctuated by urban development, marshes, or copper brown lakes reflecting Simpsoneque clouds against a sunny blue sky. When we step outside in Hornepayne Ontario, we're attacked by black flies, grateful that they cannot penetrate the heavy steel doors of our comfortable air-conditioned bubble. Occasionally the attendants will announce a moose or bear sighting, the animals visible for the briefest of moments. Occasionally I spot trucks and cars on the Trans-Canada Highway, grateful that I can pass them without having to keep my eyes on the road. Wherever they're going, we're Canadians on the move inside the Canadian, perpetually on the move too.
As I write these words in the activity car, a lady opposite me begins to chat. She's come up from Florida with her husband, and together they've been overwhelmed by the size, beauty and nature of the Canada we have experienced outside the window. I ask her why, of all the options available to them, they decided to hop on board The Canadian?
"Travel by train lets you actually see a country," she says. "Really, this should be on everyone's Bucket List."
She has no idea just how much I agree with her.