Between three coasts, Canada has plenty of destinations on par with, if not better, than more famous global counterparts. Canadians tend not to beat our chests too much about this fact because that's just not what Canadians do. If you're curious about the exotic destinations below, you'll be delighted to find local wonders that match them up: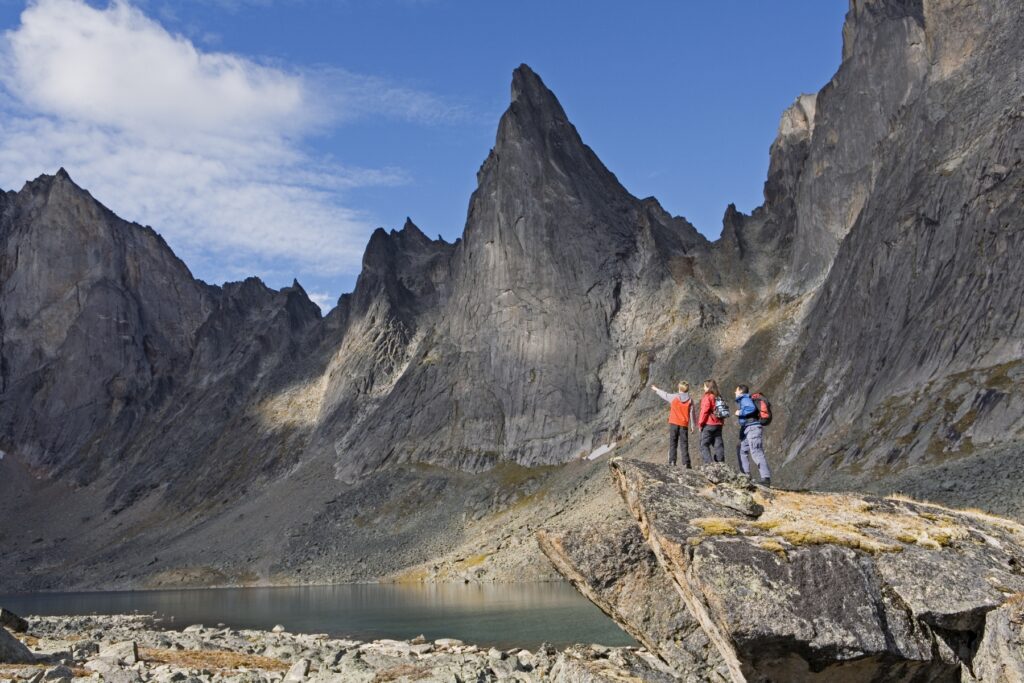 1.    Patagonia vs Tombstone Territorial Park
Sharp snow-dusted granite peaks pierce the blue sky, towering over a rugged and geologically unique landscape. Hikers and climbers visit around the world during the summer months, appreciating sweeping valleys and dense foliage that bursts with colour during Fall. The above description of Patagonia just as easily applies to Yukon's epic Tombstone Territorial Park, encompassing over 2100 square kilometres of pristine mountain wilderness accessed from the south end of the Dempster Highway.
2.    The Twelve Apostles vs the Hopewell Rocks
On a beautiful coastal drive, a street sign points you towards a true geological marvel. From the car park, take a stroll to a viewpoint that will have you instantly reaching for your camera. A set of iconic rock structures have been eroded by wind, tides and time, resulting in flowerpots, archways, stacks and pillars. Each year, thousands of tourists visit Australia's 12 Apostles along the Great Ocean Road. Each year, thousands of tourists visit New Brunswick's Hopewell Rocks in the Bay of Fundy too.
3.    Napa Valley vs The Okanagan
Wine country is food and lifestyle country. Increasingly, it's also bike touring country. There's something special when you peddle along lush, vineyard-lined roads, steering yourself into the courtyards of impressive wineries with scenic restaurant patios and fresh, farm-to-table menus. Famous for its Chardonnay, Merlot and Pinot varieties, toast the good life in the summer sun, get a bottle for your saddle-bag, and continue your journey. You may be in Napa Valley, but you could just as easily be visiting the Okanagan Valley of British Columbia.
4.    Irish Coast vs the East Coast Trail 
You're on a particularly rugged, windswept and stunning coastal trek, the trail shepherding you to rocky cliffs, emerald forests, rolling farmland, epic blow holes and long, sandy beaches. Keeping an eye out for whales migrating across the icy waters of the Atlantic, your hike visits seabird colonies and abandoned fishing settlements from the past. Historic lighthouses continue to warn passing ships of the treacherous coast as friendly locals welcome you in their villages and towns. Yes, you could be hiking the west coast of Ireland, but you're probably on Newfoundland's East Coast Trail, enjoying better weather while you're at it.
5.    The Caribbean vs Georgian Bay
Sparking turquoise water is synonymous with the sandy Caribbean islands, the South Pacific or the Maldives. Unlike our dark, ominous oceans protecting mysteries within their depths, the purity of glittering azure seas is inviting, safe, and very pleasing to the eye. Along the Bruce Peninsula, glass-bottomed boats leave Tobermory to offer glimpses of shipwrecks and marine life in Georgian Bay, a 320 km-long, 80-kilometre-wide National Park containing two UNESCO Biosphere Reserves. Hiking the Bruce Trail, you'll encounter Caribbean-blue waters and spectacular landscapes, including the golden sands of Wasaga Beach, the world's longest freshwater beach.
6.    Maine vs New Brunswick
Fresh air, sunshine, misty trees and microbrews, there's a reason so many visitors flock to Maine. You're right to expect scenic coastlines, attractive forests, welcoming villages, dozens of warm sandy beaches and some of the best seafood on the planet. But you can find all this and much more in New Brunswick, including the world's highest tides in the Bay of Fundy. After hiking the ocean floor, explore world-class biking, kayaking, fishing, and rich Acadian and Indigenous cultural experiences.
7.    Old Town France vs Old Quebec City
Picture low buildings bookending narrow streets, an abundance of statues and fountains, boutiques, patios, patisseries, cafes and art galleries. Oh, the joie de vivre! First-time visitors passing through the stone arches of Old Quebec City can be forgiven for thinking they've just fallen into a space-time wormhole and emerged somewhere in France, perhaps Avignon or Yvoire, Laon or Saint-Rémy-de-Provence. Somewhere more indicative of Europe than the capital of a major region in North America.
8.    Copenhagen vs Lunenburg
As waterfronts go, this one is particularly colourful. Brightly painted wooden buildings with pointed ceilings and ocean-facing windows, gazing onto a harbour full of yachts, boats and ships. Yes, the city of Copenhagen is very much not Lunenburg, Nova Scotia. For starters, the capital of Denmark has a population of 1.3 million. Tiny, colourful Lunenburg is home to less than 2300 people, but similarities with the colourful harbourfront buildings are quite evident, and both are steeped in rich maritime history. Only one is a designated UNESCO World Heritage Site, and it's not in Denmark.