In a country with over three million lakes, more lakes more than any other nation in the world, you can bet there's some special waters waiting to be discovered. Robin Esrock takes a brief dip in Canada's Best Lakes.
Great Slave Lake (NWT)
First time I spotted Great Slave, from the portal of an aeroplane window, I was convinced we were flying over the sea. The world's 9th biggest lake, and North America's deepest, Great Slave is completely covered in ice for almost half the year, when it is thick enough to drive on. When the ice melts, locals flock to beaches and houseboats, relishing the chance to fish for northern pike and trophy sized trout. Under summer's midnight sun, Great Slave's bays, islands, and inlets attract boaters and sailors, with some flying into exclusive fishing lodges. Kayakers adventure to the massive expanse of the lakes beautiful East Arm.
Garibaldi Lake (BC)
Located less than two hours drive from Vancouver, Garibaldi is one of BC's most scenic alpine lakes, a popular destination for campers, hikers and kayakers in the summer months, and snow shoers and backcountry skiers in winter. Located within the 2000 square kilometre Garibaldi Provincial Park, there are over 90km of established hiking trails, through dense alpine meadows, and up impressive peaks like Price Mountain, Black Tusk and the Table, all of which were created by volcanoes. The turquoise waters of the lake, its colour enriched by run-off glacial rock flour, add to the spectacular views of these impressive peaks.
Maligne Lake (Alberta)
Renowned as one of the most beautiful lakes in the Rockies, surrounded by snow-capped peaks, glaciers and unspoilt boreal forest, Maligne Lake is a must-see for visitors to Jasper National Park. Located 48km from the town, it is the world's second longest glacier-fed lake, attracting over a million tourists a year, particularly on the 90 minute scenic boat cruise to Spirit Island. Alternatively, hop aboard a canoe for a 2 to 5 day paddle along the shores, camping at one of two campgrounds along the way. Watch for bears and moose, fish for trout, and take your time enjoying the spectacular scenery.
Lake Memphremagog (Quebec)
Here's a lake that's more than just a gee-whiz jolly tongue twister. 27km long, 1,780 km2 in area, under half of which sits in Quebec, and the rest in Vermont. Memphremagog (try say that three times, quickly) is known as the jewel of the Eastern Townships, and one of the most beautiful lakes in Quebec. Its name is derived from Algonkian, for "where there is a big expanse of water." It might also be home to a 30ft sea monster, a la' Loch Ness, called Memphre, with hundreds of sightings dating back to the mid 19th century. The lake is a popular recreational area, and a great place for summer boat cruises.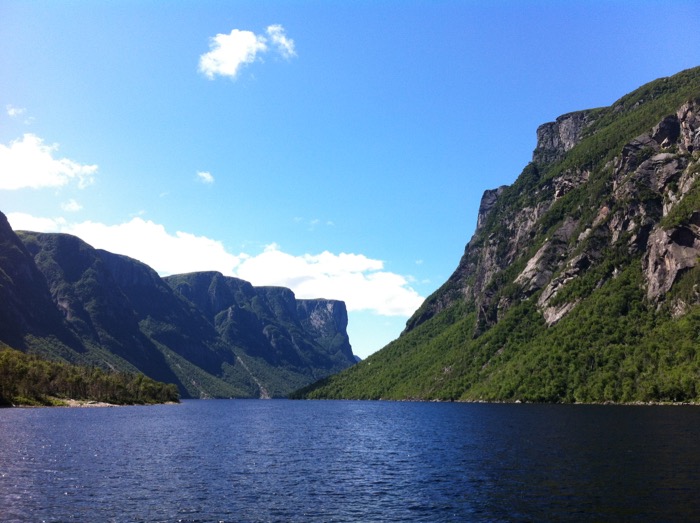 Western Brook Pond (Newfoundland)
Is this pond a brook, lake, or freshwater fjord? All of the above, and an absolute must should you visit Gros Morne National Park. Located 27km from the small town of Rocky Harbour, the best way to explore the area is via the Western Brook Pond Boat Tour, which departs regularly during the summer months. There's an easy 45 minute walk from the parking lot, the wooden boardwalk crossing over a boggy coastal plain. The boat sails up the 16km long glacially carved lake between billion-year-old cliffs, alongside cascading waterfalls. On-board interpreters point out wildlife, and explain the unique geological phenomenon that created this stunning inland fjord.
Little Manitou Lake (Saskatchewan)
Saskatchewan boasts over 100,000 lakes, but here's one that is unique in the western hemisphere. About 116km southeast of Saskatoon is a lake that refuses to let anyone drown in it. Little Manitou, located near Watrous, has a mineral density three-times salter than the ocean, and greater than that of the Dead Sea. The salt enables swimmers to effortlessly float on their backs, perhaps reading a book as they do so. Renowned through the ages for its therapeutic properties (local First Nations named it "lake of the healing waters"), most visitors enter at the south shore at Manitou Springs Mineral Spa, one of Canada's oldest mineral spas.
Little Limestone Lake (Manitoba)
Just like a mood ring, marl lakes physically change colour as their water temperature rises, causing calcite that chemically form tiny crystals. 450 kilometres north of Winnipeg is the world's best example of a marl lake, Little Limestone Lake. During summer months you can witness the phenomenon as the lake's colour changes from clear to turquoise and a milky blue-white. Protected as a park reserve, camping is allowed although infrastructure development has been prohibited. The nearest town is Grand Rapids.
Kootenay Lake (British Columbia)
Well known for its fishing, sailing, remote beaches and dramatic views, Kootenay Lake is bordered by the mighty Selkirk and Purcell mountains. Shaped like a bow (Main Lake) and arrow (West Arm), most resorts, campgrounds and recreation are located along the sandy shores of the shallower West Arm. The lake is popular in the summer months for its extensive hiking trails, and various watersports. The scenic two hour return trip from Balfour to Kootenay Bay is offered free of charge, making it one the world's longest free ferry rides.
Nipissing Lake (Ontario)
One of the largest lakes in Ontario, Nipissing (Algonquin for "Big Water") has been a popular recreational destination since the early 1900's. Originally a vital transport route for fur traders, loggers and settlers, sport fishing lodges now dot its shores, with anglers hoping to hook wall-eye, northern pike, and muskie. In addition, the 873 square kilometre lake has another 37 species of fish. Serviced by the towns of Sturgeon Falls and North Bay, the south shore is famed for its sunsets, while to the north lies Algonquin Provincial Park. The lake's relatively shallow depths have created many islands and sandbars, attracting birdwatchers drawn to the diverse range of birdlife.
Dollar Lake (Nova Scotia)
Not far from Halifax's international airport, Dollar Lake has long been a popular summer escape for residents of central Nova Scotia. Swimmers and families make their way to the north end of the lake to enjoy the clean freshwater and natural sandy beach. Located within Dollar Lake Provincial Park, the lake's campground and picnic areas are usually busy with people enjoying watersports, fishing and canoeing. For such a popular area, Dollar Lake got its name from the original owner of the land, who sold his property to the province for the princely sum of $1.