It's getting hot in here.  Too hot.  Hot enough to fry an egg off a chicken's back.   Makes me think about water parks.  Today's slides offer thrills on par with the wildest rollercoasters.  Here's a look at the best waterparks in the country.  Um…water.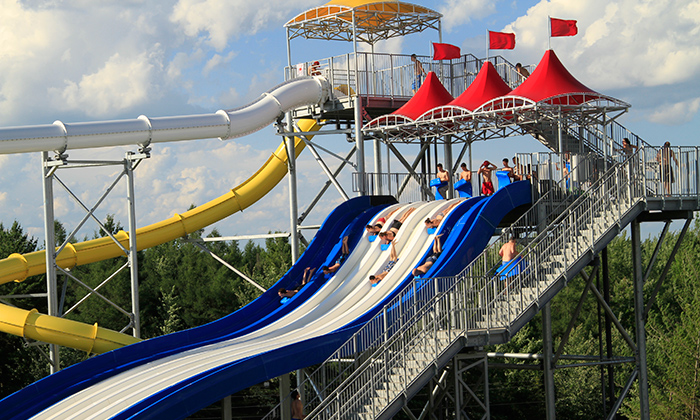 1. Calypso Waterpark, Limoges, Ontario
Opened in 2010, Calypso is Canada's largest themed waterpark.  It has 35 waterslides, one of the largest pools on the continent, the largest wave pool in the country, and the tallest freestanding waterslide tower in North America. An electronic fingerprinting system allows you to make purchases without the need to carry cash or cards.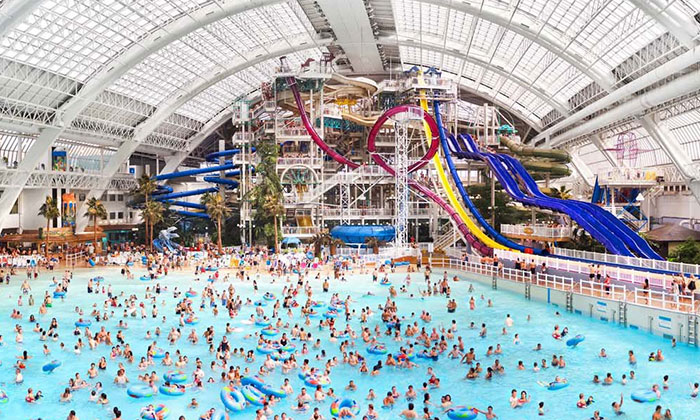 2. World Waterpark at West Edmonton Mall, Edmonton
Why shop when you can swim?   Covering nearly five acres, the world's second largest indoor waterpark is home to a number of basic level slides, as well as some true thrill slides, the most notable being the Cyclone, perhaps the most extreme slide in Canada. The waterpark also includes a bungee jump, and the world's largest indoor wave pool.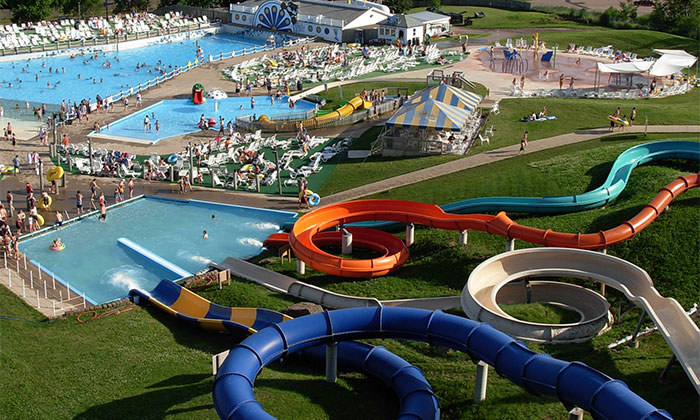 3. Magic Mountain Water Park, Moncton, New Brunswick
The only waterpark on the eastern edge of Canada, Magic Mountain features Canada's first Skybox drop capsule. Briefly enjoy the view before a trapdoor suddenly opens and bombs you into the slide.  There are plenty of calmer rides for kids and timid adults, but the thrill slides are some of the fastest and most daring on the continent.
4. Waterpark at Valcartier Vacation Village, Quebec
Thirty minutes outside of Quebec City, Valcartier Village has Canada's second largest waterpark.  Built around massive themed attraction areas, with dozens of waterslides interwoven among them, the park features water games and activities for kids of all ages.  If the weather isn't great, there's also Bora Parc located steps from the hotel lobby, which is an impressive indoor waterpark and open into the evenings.  I was impressed with the number of lifeguards throughout both indoor and outdoor water parks.  The kids will also enjoy the large on-site arcade and a variety of dining options.   
5. Turtle Tide Waterslides, Manitoba
Turtle Tide is a small park roughly an hour north of Winnipeg. Its draw is not so much the waterpark itself, but the area that surrounds it.   Turtle Tide is located at the entrance to Grand Beach Provincial Park, one of the country's best beaches.  The waterpark is aimed primarily at young children, but older kids can hit the beach nearby.
6. Cultus Lake Waterpark, British Columbia
An hour's drive east of Vancouver, Cultus Lake Waterpark is the top waterpark on the West Coast. A variety of slides and attractions include some serious thrills, with plenty of high-speed rides that include a unique free-fall tube ride called the Valley of Fear.
7. Kenosee Superslides, Saskatchewan
Halfway between Winnipeg and Saskatoon, the Kenosee Superslides is the province's only true waterpark. Located on the shores of Kenosee Lake, the park has a limited number of attractions but makes good use of the views. Many of the slides are for serious sliders only, although slower tubes are available for kids.
8. Wild Water Kingdom, Brampton, Ontario
Wild Water Kingdom has seven high-intensity slides as well as a face-first zip-line, rock-climbing wall and wave pool. The Night Rider is a rare dark slide, sending the rider plummeting in near pitch-black. For kids, there are four distinct playgrounds with different themes and attractions, including The Big Tipper, a double-tipping bucket that dumps 800 gallons at a time.
9. Super Aqua Club, Pointe-Calumet, Quebec
A short drive from Montreal, Super Aqua Club is a massive waterpark complex with a wide variety of attractions. The park has wild, extreme slides and whirlpool rides, as well as more relaxing, family friendly attractions. There is a large natural beach, and a private area available for reservation.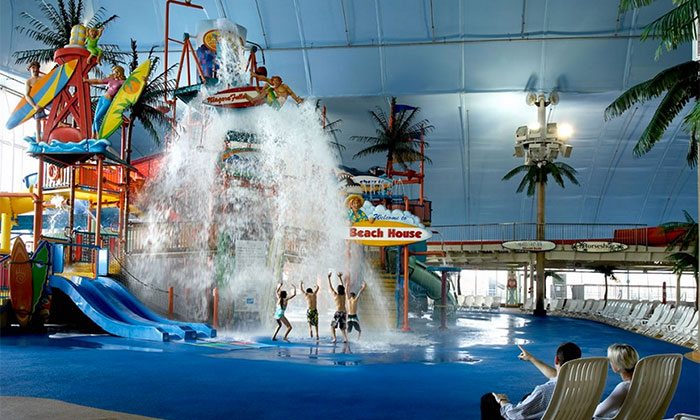 10. Fallsview Indoor Waterpark, Niagara Falls
Fallsview Indoor Waterpark is the third largest in the country. It consists of a number of pools, with 16 water slides and an aquatic play area. Open year-round, Fallsview is a popular with families visiting Niagara Falls, and a safer, legal alternative to going over Horseshoe Falls inside a barrel.   Some waterslides just shouldn't be messed with!