From the earliest days of its invention, bicycles have always offered the promise of adventure. Just a few short years after the "running machine" was invented by a German nobleman in 1817, "velocipedes" were being utilized by bold adventurers on long journeys into the countryside.  Although the first bicycles were rickety, unreliable, lacked brakes, and attracted both admiring and unwelcome attention, the joys of combining discovery with exercise quickly gathered adherents. By the end of the century, cycling clubs were thriving across Europe and North America, as both men and women embarked on cycling tours. These ranged from weekend jaunts to years-long journeys around the world, with the first around-the-globe rides  accomplished as early as 1895. When cars displaced trains as a primary means of transport,  cyclists quickly discovered that decommissioned railway lines cut perfect trails through the country – flat, hard-packed, picturesque, and serviced by welcoming villages, towns and communities along the way.
Cycling technology has changed dramatically since the 19th century.   Bikes are lighter, safer, more rugged, easier to operate across various surfaces, and infinitely more comfortable.  Yet the promise of self-guided cycle tours along rail trails remains, especially for outdoor enthusiasts in Canada .  For here is a country blessed with exquisite landscapes, often linked by the remnants of rail's former glory.   Great Canadian Trails has pioneered self-guided rail trail itineraries across the country, appealing to cyclists of all abilities, and with a definite sense of adventure.  Take it fast, take it slow, but always take it easy, knowing your bags are shuttled ahead to carefully selected hospitality partners.   The company [We] facilitate hybrid bike and equipment rentals, curated itineraries, and local shuttles when needed to ensure you're taking in the highlights, and skipping the leg-crunching hilly bits.   It's all about flexibility: knowing you can push yourself harder on alternate routes if you wish, or finish peddling earlier to enjoy an extra round of craft beers at the bistro.   Easily among the best outdoor experiences you'll find anywhere in the country, peddle up to these unique self-guided rail trail itineraries from Great Canadian Trails:
For those just embarking on the idea of a multi-day cycle tour, the Ottawa to Kingston rail trail is a perfect introduction.  Follow a gentle gradient from the nation's capital through wetlands, woodlands and farmlands as you explore the historic Rideau Heritage Route, cycling less than two hundred kilometres over five days before arriving in Kingston.  This is lush country, full of wildflowers and serviced by wonderful inns, cafes and restaurants.  The history of the Rideau Canal and the Ottawa River Valley follow you all the way south, as the trail crosses through wildlife-rich woods and rolling farmland.   There are sections of road and tree-lined trail, ideal for a hybrid bike designed to conquer today's asphalt and gravel (spare a thought for bones and backsides of those early 19th century cyclo-tourists!)   Each day's ride concludes with a comfy stay in a carefully selected inn, hotel or B&B, a hot shower, a stroll and great meal around sparkling lakeside towns favourites like Portland and Sydenham.   You might be thinking: if it's this amazing in southern Ontario, just imagine what it's like doing a multi-day bike ride across Prince Edward Island, the Laurentians, BC interior or Nova Scotia!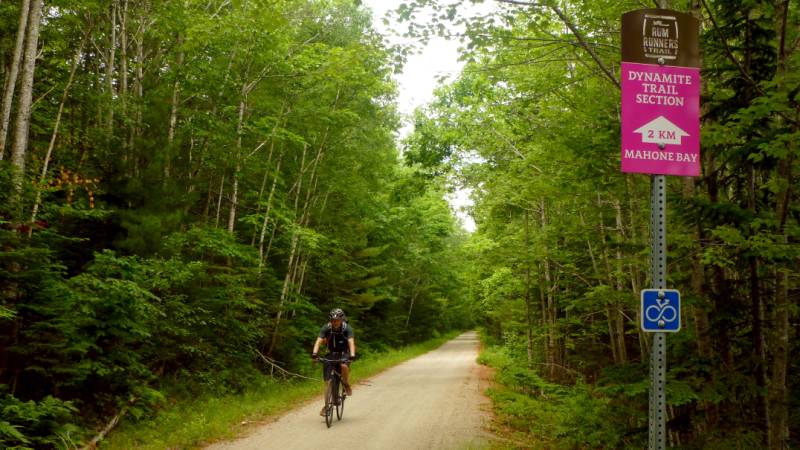 Nova Scotia's fishermen could smell an opportunity.  In the late 1920s and early 1930s, prohibition has created an insatiable appetite for illegal booze.  By shipping barrels of booze into Halifax, fishermen became rum runners, smuggling their contraband south along the railway line linking the city to the historic southerly port of Lunenburg.  Today, their legacy is a 119km multi-use rail trail connecting the province's bustling capital to the colourful houses of Old Town Lunenburg.   Suitable for beginners, the hard-packed, mostly smooth trail crosses various coastal communities, beaches, parks and wilderness, with ample opportunities for swims, lobster dinners, and bucket list Atlantic Canada views.   There's a different pace of life in this part of the world, and it's particularly suited to bicycle touring, where all your senses get engaged.   You can smell the ocean breeze, taste the air, feel the sun, hear gulls overhead as you watch the kilometres slip beneath your wheels.  You'll want to brake for a craft beer or artisan souvenir in lovely Mahone Bay, and definitely scramble over the smooth rocks at the iconic Peggy's Cove Lighthouse.   Nature takes her time in this part of the world, and so does the itinerary.  There are opportunities for biking or walking excursions on Big Tancock Island, to feast on lobster at the famous Shore Club in Hubbards, or simply amble about the UNESCO World Heritage-listed Lunenburg, home to national historic sites, the fascinating Fisheries Museum of the Atlantic, and the Bluenote II ship that sails on tails of every Canadian dime.   Just over a century ago, Nova Scotia's fishermen could see an opportunity.   If you're even remotely curious about a multi-day bike ride  – especially in a destination as striking as Atlantic Canada – I expect you can smell one too.
Cycling through Tuscany or Bordeaux belongs on a many a bucket list, but Canada has a far more accessible equivalent: the lush, sunny and warm BC interior that's connected via a series of converted rail trails.   The Kettle Valley Rail Trail peddles you to sparkling lakes, striking canyons, and the scenic vineyards and bursting orchards that make the Okanagan Valley such a popular lifestyle destination.  Park the bike and pick some fresh peaches or cherries, pull into a tasting room to sample the local wines, or pick up artisan cheeses, breads, jams and other products for a saddle-bag picnic.  The trail is relatively flat, making its way across 18 wooden trestle bridges and through the two tunnels that traverse the striking Myra Canyon – a definite trip highlight.  Ranging from 54 kilometres to a relaxing 16 kilometres on the final day, local accommodation also includes opportunities to kayak, hike, spa and dine on the region's farm-to-table delights.  Rest assured, when you've peddled for it, you've earned it, so go ahead and order another bottle!    The Kettle Valley Rail Trail is ideal for introductory to moderate level cyclists, or anyone desiring a taste of the good life.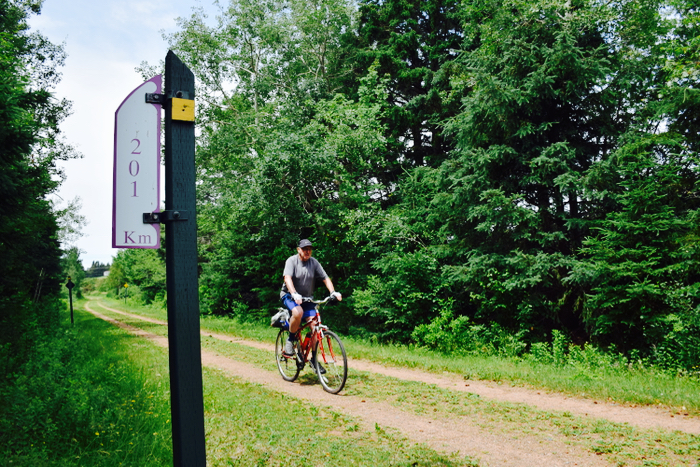 PRINCE EDWARD ISLAND:  TIP TO TIP AND BEYOND
The "Gentle Island" is blessed with some of the Atlantic Canada's most striking coastal scenery, miles of fetching bike trails, a relatively gentle topography, and a decommissioned railway track running from tip to tip.    Great Canadian Trails offers two options for a self-guided cycling adventure on Prince Edward Island.  You can  cover the entire island with a week-long itinerary peddling from North Cape to East Point (or vice-versa), cutting in along the scenic north coast or following the inland former rail track that is the Confederation Trail.  Alternatively – and especially if this is your first visit to Canada's smallest province – they've [we've] curated the coastal, culinary and cultural highlights into a 7-day biking adventure that kicks off and concludes in the capital of Charlottetown.  Flexibility is baked into the itinerary, providing ample time to explore the shoreline dunes, Anne of Green Gables country, bucket list national parks,  refurbished rail stations, and Atlantic lighthouses.  Experience the fairway-like summer gardens, bright pink, blue and purple lupins, red-sandy beaches and wonderful Atlantic hospitality, rewarding yourself each night with the province's legendary fresh oysters, clams, mussels and lobster. Whether you're a hardcore cyclist or looking for an active vacation the whole family can enjoy, Prince Edward Island is a rail trail dream.
Once upon a time, trains steamed through Quebec's Laurentians, shuttling holidaymakers to villages, inns and mountain resorts.  Today, the decommissioned rail track forms the longest linear park in Canada. The 230 kilometre-long Le Ptit Train du Nord welcoming snowmobilers and cross-country skiers in the winter, and delighted cyclists of all ages in the summer.  The meandering crushed gravel rail trail snakes its way through lush boreal foliage, small communities, restored historical stations, and gentle rivers and brooks.   Great Canadian Trail's offers two routes that capture the highlights of the rail trail:  a family-friendly route to fit the skills and stamina of kids, and a longer itinerary that packs in more mileage to work off the cheeses, breads and wine available in award-winning bistros along the way.   Shuttled ahead so that you peddle back to Km 0 in Saint-Jerome, discover life in Mont-Laurier, the shores of Lac Nominingue region, festivities in Labelle, and the renowned beauty of Mont Tremblant.  If you're new to multi-day cycling trips, you'll quickly learn that as your muscles adjust and your legs strengthen, each day gets a little easier. Before you know it, the week concludes in a blur of outdoor wonder, but after experiencing the joys of Le Ptit Train du Nord, you'll likely already be planning your next Canadian rail trail.