From the old and weird to the new and bizarre, there are other offbeat buildings Canadians can still treasure. Here's a look at some of Canada's Coolest Buildings.
Habitat 67, Montreal
Famed architect Moshe Safdie designed the instantly recognizable cubes of Habitat 67 when he was still a student. Unveiled as a pavilion during Expo '67, the distinctive building became one of the world's most recognized apartment buildings.
Ripley's Believe it or Not Museum, Niagara Falls
An oddball museum needs an oddball building. One of Niagara Fall's most popular attractions, the Ripley's "odditorium" is designed to look as if the Empire States Building has tipped on its side, complete with a vertical yellow taxi cab on one side, and a triumphant King Kong on the other.
The Royal Ontario Museum, Toronto
When billionaire Michael Lee-Chin donated $30m to the ROM, you can bet it the museum's renaissance would include architectural splash. Superstar Berlin-based architect Daniel Libeskind integrated his futuristic Crystal glass and aluminium façade above the entrance, creating an instantly recognizable and controversial landmark. Photo credit: Thinkstock
Log Skyscraper, Whitehorse
In 1947, Yukon pioneer Martin Berrigan decided to build log cabins to rent in downtown Whitehorse. Like other developers, he decided to go up, only Berrigan chose to use logs from the east bank of the Yukon River. Today, his 3-story high log cabin skyscraper is a heritage site.
Roslyn Courts Apartments, Winnipeg
Built in 1908/09, this apartment building in the trendy Osbourne Village became an instant landmark with its long corridors, stained glass windows and covered walkways. Five stories high, the red brick building still has original woodwork, and is known for its large, unusually designed suites.
Sharp Centre for Design, Ontario College of Art and Design, Toronto
It's hard to miss the college's pixelated tabletop extension, perched on 12 multi-coloured legs 26 metres above the street. Containing two stories of teaching space and studios, architect Will Alsop's striking design was praised for its imagination and boldness. Art students rejoice!
Jelly Bean Row, St John's
Rather than an actual place, Jelly Bean Row refers to downtown St John's bright-painted Victorian row houses. If you're looking, take a stroll on Gower, Henry and Bond streets. One theory is that the houses were painted bright so sailors could find their way home through fog, another that the colours battle St John's notoriously ugly weather.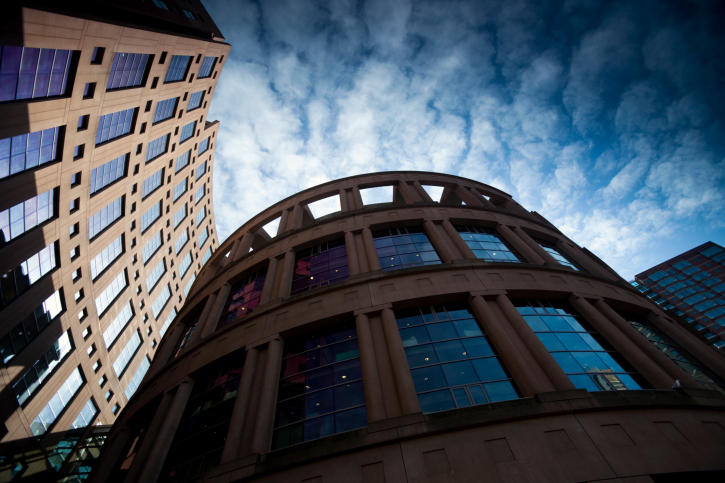 Vancouver Public Library
Moshe Safdie strikes again. Resembling an urban coliseum, Vancouver's library is one of the city's most popular landmarks – a seven story building surrounded by striking yet historic-looking circular walls with reading and study spaces, accessed by sky-lit walkways. The library's old-new façade has made appearances in shows like Battlestar Galactica and Fringe.
Absolute World, Mississauga
Dubai, Shanghai, Chicago, Hong Kong – you'd have to twist yourself in circles to make a dent on the skyscraper design capitals of the world. And that's exactly what's Mississauga's Absolute World did, rotating 209 degrees from base to top. With their shapely curves, the locally nicknamed "Marilyn Monroe Towers" seduced judges at the prestigious Council of Tall Buildings and Urban Habitat, who named them the Best Tall Buildings in the Americas in 2012.
Sam Kee Building, Vancouver
It doesn't look like much, but that's precisely the point. The Sam Kee building on Vancouver's Pender Street is the world's shallowest commercial building, with a depth of just 6 feet wide . When the city-planning department increased their street size and took away storefront property in Chinatown, local businessman Sam Kee had other ideas. The heritage building is still in business, and a popular tourist attraction. Photo credit: Flickr